​​​​​​​Young Black Men, Masculinities, and Mental Health Project
Transforming Gender Norms * Enriching Mental Health * Engaging Social Support
---
Volume 2, Issue 1 Winter 2019
---
The YBMen Director's Corner
Dear YBMen partners and friends,
The YBMen Project has gotten off to a running start for 2019, complete with international connections, innovations in our social media platforms, and promising growth for the future. As we begin the tenth year since our inception, we are pleased to report that more boys and men are embracing the principles of our tag line "transforming gender norms, enriching mental health, and engaging social support." More recently, the idea of transforming gender norms has risen to the public spotlight, as the American Psychological Association (APA) released some guidelines for practitioners who work with men and boys. We, at the YBMen Project, find value in what the APA has released and commend the scholars involved in the report. Moreover, we have noticed social media trends debating the intent of the guidelines and what this means for the state of men and masculinity. Some of the debate raises healthy questions about how masculinity and manhood should be defined, while other aspects of the debate are hurtful to sub-groups of men and boys. Our YBMen Project team celebrate multiple definitions of masculinity (i.e., "masculinities") and know there is a place for them all in our society.
This winter newsletter comes at an opportune time, as we are gearing up to launch the first iteration of the YBMen Project with 8th grade boys and through our new social media platform, Instagram! Though Facebook has been an exciting platform for the first part of our journey, we are looking forward to doing more with our Instagram version of the YBMen Project in the coming months. As you scroll through our newsletter, I trust that you will enjoy learning more about the project highlights since last summer, including the MBK Detroit Innovation Challenge and Community Expo, the YBMen Project feature in XXL Magazine, the new YBMen website we launched last fall, and our new YBMen intern, Jordan Tafari, who shares an interesting perspective on the recent suicides with Black boys in the enclosed commentary.
We hope you enjoy this iteration of the newsletter, and as always, be sure to reach out to us. We look forward to working with you to provide spaces where more boys and men can transform their gender norms, enrich their mental health, and engage in social support.
Here's to a new year!
Dr. Daphne C. Watkins, Director
The YBMen Project
---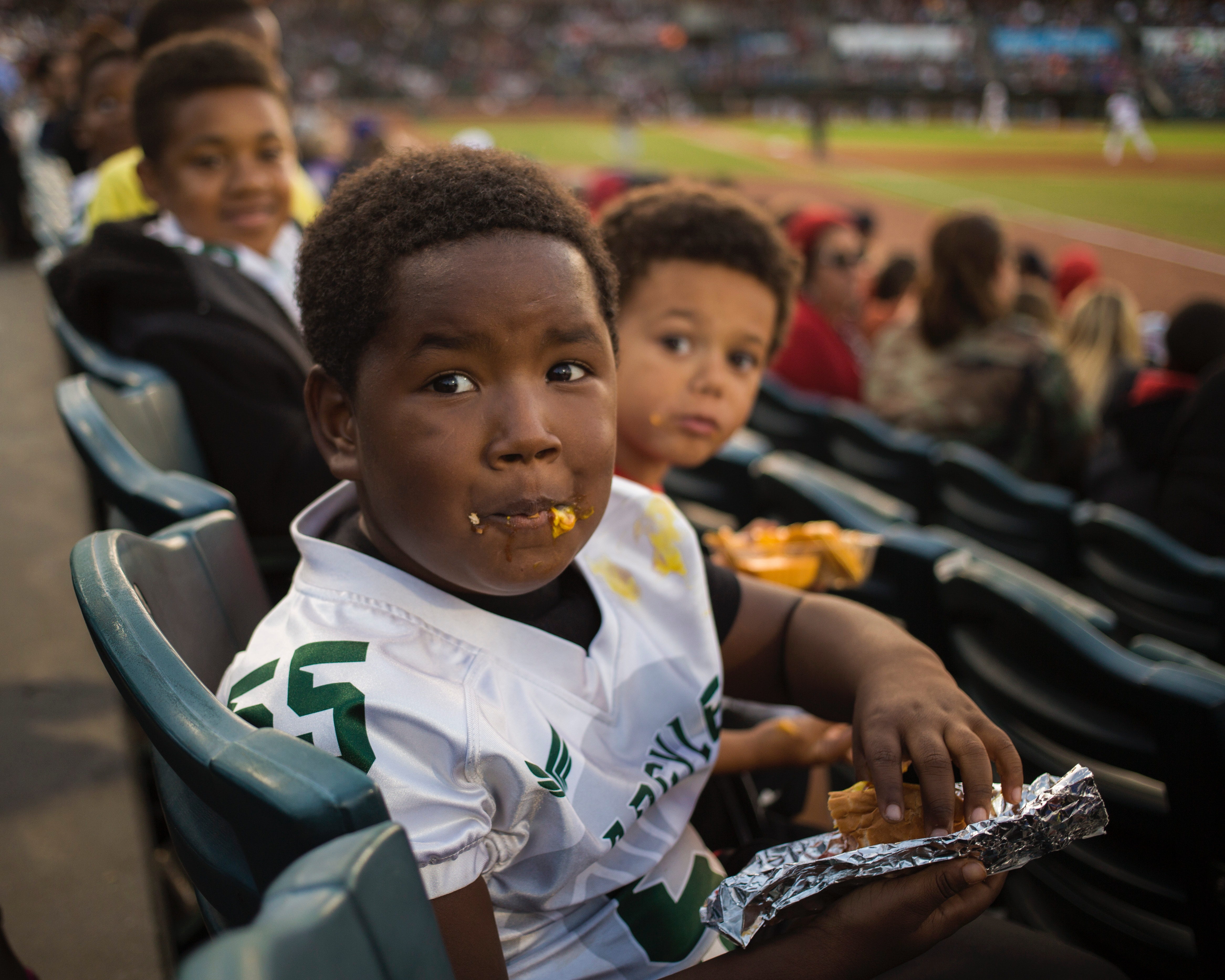 Why is bullying still being missed by parents?
By Jordan Tafari, Research Associate
The YBMen Project
"He probably didn't want to say, 'mom, someone is bullying or picking on me'…he just didn't know how to tell me." These are the words of Cornelia Reynolds, after finding out that her 8-year-old son, Gabriel Taye, died by suicide in the city of Cincinnati, Ohio. Gabriel's family and news reporters believe his death was the result of being bullied at school by his peers. Leading up to Gabriel's passing, he was bullied day in and day out. An incident occurred where he was knocked unconscious by a classmate just two days before ending his life. An ABC News article covering this tragedy noted that bullying was routine behavior at Gabriel's elementary school. His story is one that is known all too well, one that begs the question of why boys need social support in Black communities to feel enabled to speak about traumatic issues they face.
Stopbullying.gov reports there is a relationship between bullying and suicide, noting that depression and history of trauma are contributing factors to suicide. The risk of such factors, particularly suicide, can worsen if support from parents and schools does not occur. LeVasseur and colleagues (2013) conducted a study to find the association between bulling and suicide attempts among New York City youth and found a high association between them. Moreover, their findings showed that Black students had a higher prevalence of verbal and physical bullying than Hispanic students.
The research, coupled with the incident of Gabriel Taye, highlight the need for Black boys to have social support in general. As his mom stated, he simply may not have known how to go about expressing how he felt inside about what he was going through. Traditionally, Black males have indirectly been taught from an early age that expressing emotion is embarrassing or emasculating. All in all, this speaks to boys, specifically Black boys, needing to feel comfortable expressing themselves, which will require support from parents and schools in learning to properly address instances of bullying. In order for boys like Gabriel to speak up when they are being bullied, we must erase the stigma that seeking support is a sign of weakness and attack the problem head-on.
References
LeVasseur, M.T., Kelvin, E.A., & Grosskopf, N.A.,(2013). Intersecting identities and the association between bullying and suicide attempt among New York city youths: Results from the 2009 New York city youth risk behavior survey. American Journal of Public Health, 103(6), 1082-1089.
Stelloh, Time. "Family of Ohio Boy Who Committed Suicide after Bully Attack Sues School." NBCNews.com, NBCUniversal News Group, 7 Aug. 2017, 9:18, www.nbcnews.com/news/us-news/family-ohio-boy-who-committed-suicide-after-bully-attack-sues-n790486.
Yeldell, K. (2014, March 11). Black More Likely to Bully and Be Bullied than Other Groups. Retrieved from https://www.blackpressusa.com/black-more-likely-to-bully-and-be-bullied-than-other-groups/
"The Roles Kids Play in Bullying." StopBullying.gov, Department of Health and Human Services, www.stopbullying.gov/what-is-bullying/roles-kids-play/index.html.
---
What's new with The YBMen Project.
The YBMen Project has been in data collection mode every fall since 2015. This fall we decided to step back and focus on the YBMen brand and how we can develop it to better serve our community and the young Black men across the world. Focusing on our brand meant that we needed to turn our attention to a more user friendly website. Our new website was launched this past September, if you have not had a chance to check it out please do! Just go to YBMenProject.com. Our website was designed by Keith F. Miller Jr., founder/director of The Pillow Talk Project. Keith is also promoting mental health and masculinity awareness among men of color. Some of the features on the new YBMen website include: archived YBMen newsletters, site reports, and quotes from participants.
The YBMen Project has also created Facebook and Instagram fan pages that are available to the public. These pages will keep you updated on what's going on with the YBMen Project and also promote mental health and social support among our followers. Click on the Facebook and Instagram icons at the end of the newsletter to follow us!
---
YBMen Project Goes To Detroit.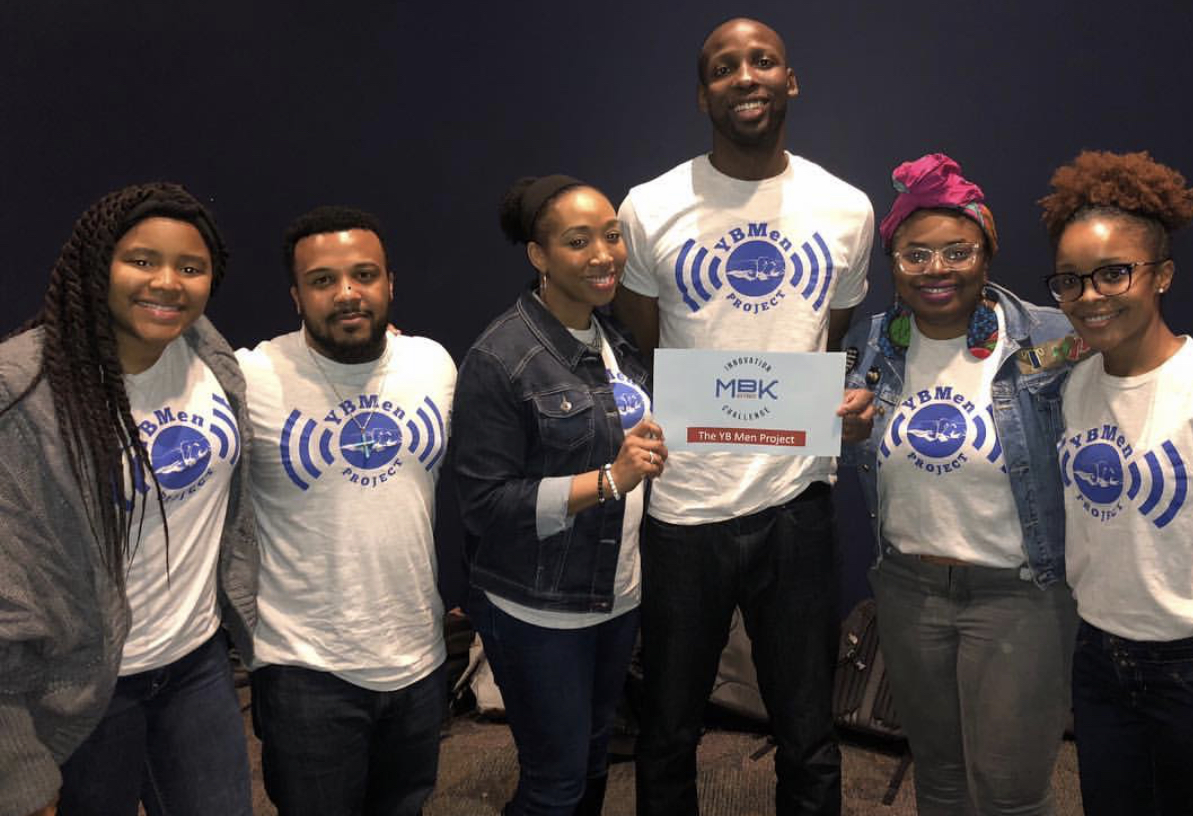 The YBMen Project Team at the MBK Detroit Innovation Challenge and Community Exhibition. 
(From left to right: Janelle Goodwill, Ed-Dee Williams, Daphne C. Watkins, Manny Richardson, Nkemka Anyiwo, and Natasha Johnson)
---
The YBMen Project's First Middle School Program
Rather than collect new data at colleges and universities this past fall, we prepared for a new iteration of the YBMen Project we are implementing this winter. The YBMen Project was a semi-finalist in the MBK (My Brother's Keeper) Detroit Innovation Challenge, sponsored by the Skillman Foundation. Semi-finalists were given resources to prototype their work in the city of Detroit and the YBMen Project is implementing a small scale of the program in a Detroit middle school. This is exciting for the YBMen Project in two very important ways. First, this is the YBMen Project's first time working with Black youth. Second, in the past we have used Facebook as the platform for our intervention. However, this year, we are creating our first YBMen program in Instagram. Our work is still underway, but for updates, continue to check our website and our social media pages.
---
YBMen in the News!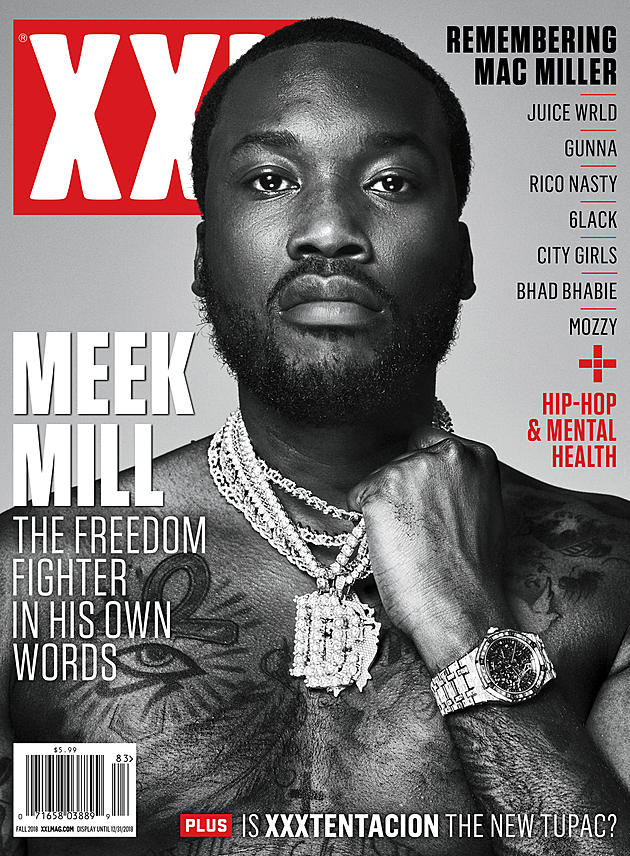 The YBMen Project was mentioned in XXL Magazine!
"Inside Hip-Hop's Complicated Mental Health Complex."
XXL Magazine (With quotes from YBMen Project Director, Dr. Watkins)
The YBMen Project was featured in the Philadelphia Inquirer!
"From Facebook memes to gaming platforms: Where college students turn when they can't discuss mental illness on campus"
Philadelphia Inquirer (With quotes from YBMen Project Director, Dr. Watkins)
---
What is Next for the YBMen Project?
Our goal is to develop low-cost, high-impact health promotion programs that utilize social media to improve and maintain the health of young Black men. We are currently working to expand the YBMen Project, as requested by our participants.
Looking ahead, we plan to carry out the YBMen Project in several locations across the United States and Canada, focusing on different health issues affecting the lives of young Black men. The YBMen Project not only improves the living, learning, and working conditions of young Black men, but also the conditions of their families and communities.