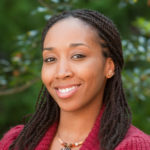 Though the idea was initially conceptualized in 2008, the YBMen Project was born in 2014, after Dr. Daphne C. Watkins spent several years doing research on the mental health and well-being of Black men over the adult life course.
Until then, Dr. Watkins had published extensively on the topic, but wanted to do more than provide information on the living, learning, and working conditions of Black men — she wanted to find a way to communicate to them the importance of their mental health, masculinity/manhood, and social support. Dr. Watkins was determined to use the findings from her interviews, surveys, and secondary data from Black men to develop an innovative way to educate them about ways to enrich their mental health, transform their gender norms, and engage in social support.
Originally developed as a face-to-face mental health education and social support intervention, Dr. Watkins received her first grant to support the YBMen pilot project in 2013 from the Vivian A. and James L. Curtis Research and Training Center at the University of Michigan School of Social Work, and implemented the first YBMen Facebook group at Jackson College (Michigan) in Fall 2014 with a small group of Black male students. Findings from the YBMen pilot at Jackson College were remarkable, showing a reduction in depressive symptoms for the participants over a three-month period.
The interviews shined a light on the resounding narrative about Black men's mental health in Jackson, and across the country, this notion that "nobody ever asks Black men about their mental health." Dr. Watkins and the YBMen Project team were destined to change this narrative.
As of August 2018, the YBMen Project has reached over 800 Black men nation-wide.